This Audio Converter has the tech world a buzzing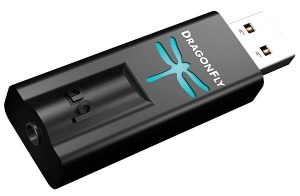 Tired of the tingy old tech sound you get while listening to music on your computer?  Well one solution would be to spend some serious cash and upgrade your speakers.  However doing this will not address the basic problem of the quality of sound that you are getting from your computer.
Another more effective solution would be to go out and try AudioQuest's DragonFly digital audio converter.  Installation of the device is easy, just simply plug in the USB stick and connect your listening device (headphones, speakers, amp etc) and away you go.  The DragonFly is compatible with both pc and mac.
Technical Specifications
USB Stick-Size Digital-Audio Converter
Plays All Music Files: MP3 to High-Res
Drives Headphones Directly
Variable Output Drives Powered Speakers or Power Amp
Fixed Output Feeds Preamp or Receiver
Asynchronous Transfer Ensures Digital Timing Integrity
Two Clocks Enable Perfect Native Resolution at 44.1kHz, 48kHz, 88.2kHz and 96kHz
Output voltage: 2vrms
Minimum driven impedance
(headphones, electronic input):12 ohms
Maximum headphone driver output power: 125mW @ 32 ohms
Source www.audioquest.com/dragonfly