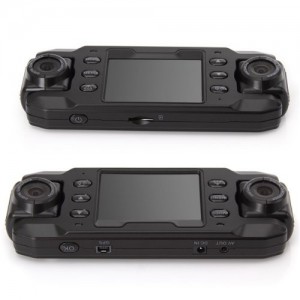 Don't be a victim in your car with the Koolertron is the Dash Camera DVR III
Watching the news last night there was a story about a driver who was waiting in rush hour traffic when the car in front of him rolled back and his is car, despite his efforts to honk the horn. We found out soon that this was done on purpose in order to get money through fraudulent means, basically the scam artist driver said "either you give me $500 or I'll go to the cops and tell them you backed into me".
However only after the victim of the crash showed the fraudster that was caught on his dash cam did the scam artist realize that they wouldn't be getting anything.
Gizmo readers, looking at this story made me realize that by spending a few dollars saved this driver
the blackmail money of the damage from the crash (and who knows the fake whiplash claim also).
The latest gadget from Koolertron is the Dash Camera DVR III X8000 With GPS Module G-Sensor. Not only does it capture the image, but it also has a built-in low-noise high-definition photosensitive elements can capture high definition pictures in darker occasions. Of course there is support for external GPS logger (global synchronization) so that you can capture the particulars (where, when and how) for any police report. A great device for car and truck drivers.
Product Specifications
2.0 inch LCD screen
Built-in 140 degree high resolution dual wide angle lens
Password protection function, can't release any recording if without correct password
Resolution: 1280×480 30FPS (2Ch Record), 640×480 30FPS(1CH Record)
Micro SD card up to 32GB(At least use 4GB class 6 Micro SD)
AV out function supported
Support current of DC12-24V
Dual 180 degree rotating lens
Built-in low-noise high-definition photosensitive elements can capture high definition pictures in darker occasions
Built-in G-sensor, with "event recording" lock function
Support external GPS logger (global synchronization), recording whole event situation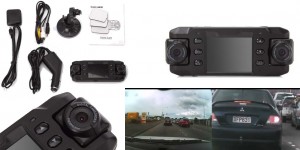 References: the Koolertron is the Dash Camera DVR III