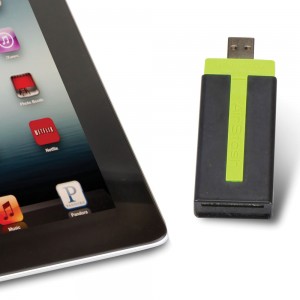 Have you ever wanted to connect a USB flash drive to your iPad?
Having purchased an iPad mini for my mother recently I have had a lot of fun showing her how to use some of the apps. One of my biggest challenges is sharing files with her. She is more than capable of extracting files from her email; however, being from an older generation it is difficult to explain to my mom how to use DropBox to get larger files.
Unfortunately the iPad mini does not allow for users to use generic USB flash drives to exchange information. Well I was pleasantly surprised to see online that Hammacher Schlemmer a USB flash drive for the iPad. Marketed as the only USB flash drive for the iPad "that wirelessly streams movies, music, photographs, and documents". Simply download the free app to use it and its ready to use. Great for a household as up to six devices can simultaneously access the drive at the same time.
Product Specifications
Product Dimensions: 3 1/2″ L x 2″ W x 1/2″ D
Weight: 1 1/2 ounces
Interface Bluetooth / USB2.0
Power Five hours of stand-alone operation
Recharge Via USB interface
Simultaneous access: Six wireless devices
Device Support: iPad, iPad mini, iPhones, Android, and Windows smartphones
SD Cards 8 GB SD card (included), supports up to 32 GB
Distance Maximum 150′
References: For further information