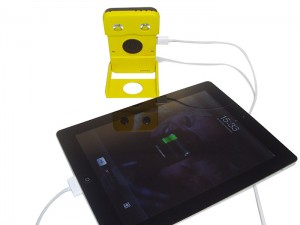 Our readers are not only astute but many of them are looking for and asking for products that are both technologically advanced and the company behind the product has a conscience.
Engineered by a company called Invitation from the Netherlands, the new WakaWaka is Solar powered device that can fully power most mobile phones from completely depleted, and provide you with light to read for 10 or more hours.
Even for Technogeeks like myself in the cold (and dark) north, it is easy for me to recharge the WakaWaka. Simply by placing the WakaWaka Power in direct sunlight for a whole day and you will notice that the battery will be almost completely full,
Invitation is working with both Kickstarter and OnePlanetCrowd, to raise money to hand out free WakaWaka Solar lamps in Haiti to provide lighting to children and families affected by the disaster.
Technical Specifications
Battery 800 mAh NiMh battery (3 x AA size) with 500 cycles
Solar Cell 18% efficient 0.75W mono crystalline solar cell
Certification CE, UNFCC complaint (UL pending)
Life expectancy 5-7 years
USB Connectors micro USB in (500ma), USB out (1A)
Material Recyclable ABS
Dimensions 120 x 16 x 77 mm
Weight ~200 grams
Charge time 75% full in 6 hours (NY latitude)
AC Power 100% full in app. 4 hours
Four light modes:
200% brightness (40 lumen) super bright torch mode
100% brightness (20 lumen) bright ambient light
50% brightness (10 lumen) bright reading light
10% brightness (2 lumen) soft night safety light
SOS emergency beacon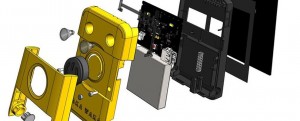 References: WakaWaka Solar Powered Lamps