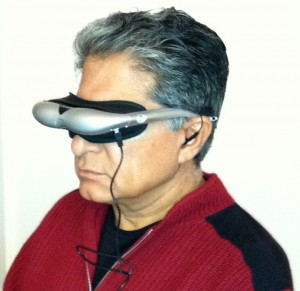 The daily stress of our lifestyles makes it very difficult for us to relax. Often even during the long commute home on the train or bus it takes each of us a while to come down from the hectic day.
Well readers, Deepak Chopra has developed a device called the Dream Weaver which uses light and sound pulses to help you relax. Having tried it at the CES show I can say that this device was very relaxing.
The effect according to Chopra is "like the relaxed and focused effects one gets from Gregorian chanting, Hebrew davening, Tibetan prayer bowls, Native American drum circles and rain chants, Sufi chants and Whirling dervishes, and African trance dancing". The AudioStrobe® system technology was developed and patented by Andrzej Slawinski.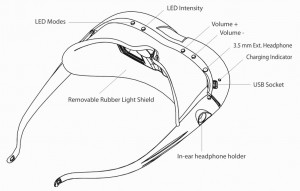 Product Specifications
Battery: Rechargeable lithium battery (included)
Input: 3.5 mm ext. headphone socket, supports all headphones and earphones
Box Contents: Dream Weaver Unit, rubber Shield, in-ear headphones, bag for Dream Weaver, Audio Cable, Dream Weaver programs, USB charging cable
Adjustable nose piece and the removable rubber light shields
Comes with removable in-ear headphones/ear buds

References: The Dream Weaver by Deepak Chopra