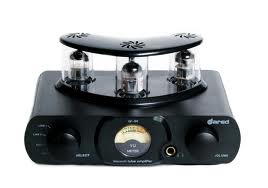 Looking for an amplifier that will both meet your technology requirements but yet elegant enough to match your room design, well you should consider the Dared EF-99.
Having seen the Dared Headphone Amplifier at the CES show in Las Vegas I was somewhat skeptical. When you first looked at the device it looked like it could have been invented in the 1920s. The sexy retrospective small glowing radio tubes deceivingly hid the modern clean and vibrant sound that was emitted from headphone amplifier
The EF-99 has 4 inputs and 4 outputs to address your device requirements and individuals can opt for a customizable impedance selection to enjoy a personal high-quality sound performance.
Product Specifications
Weight 5kg (including external power supply)
Inputs Line1, line2, AUX, USB DAC
Outputs: Headphone Jack, Stereo L/R RCA
Bluetooth Bluetooth 2.0
Frequency Response 20-30KHz 0.5dB
Size: 180x240x150mm (L x W x H)
Power Voltage: 115V/230V
References:
For additional information ..