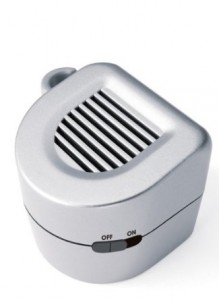 Looking at the window outside it may be hard to believe (because of the snow) that the golf season is just around the corner. It's time for us to get off that couch and get into shape. In addition to push ups and chin us Gizmodians you may want to look at this cool device to improve your swing.
Just as your GPS talks to you in your car and points you in the right direction, the Perfect Solutions Talking Swing Meter will help you quickly put your swing back on the right course. This electronic swing meter is equipped with a speaker to provide you with immediate feedback of "nice shot" or a "hook" or "slice". And once the weather improves you can clip on the Swing meter on your club and take it outside to provide you with encouragement while on the golf course.
I'm going to try this out. My only hope is that my swing improves before I have to replace the batteries on this device. If not, don't be surprised if it lands (accidentally of course) in the pond on my local golf course from the Swing Meter saying "slice" too many times.
Product Specifications
Precision-engineered to sense your swing direction
Clips on and off club in seconds, without tools
Runs on three (included) button-cell batteries
Shipping Weight: 5 ounces
References: For information contact ..