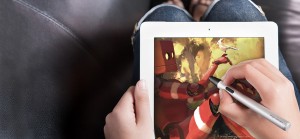 Apple's iPad is a wonderfully convenient and mobile tool. However there are challenges for sketch artists hoping to leverage some of the great apps.
Well has designed the Pogo Connect iPad pen. Self titled as the "smartest iPad pen" this Bluetooth smart pen makes it easy for the end user to draw or even take notes. In addition to the pen sensitivity, the Bluetooth pen allows the end user to draw with different line widths.
Pogo utilizes its (patent pending) Crescendo Sensor which is:
It's amazingly sensitive, with 0 grams of activation force.
It works at all angles.
It requires no calibration.
It provides hundreds of levels of pressure.
Best of all? No moving parts, making it incredibly reliable.
References: Pogo Connect and Smart Clip Bundle