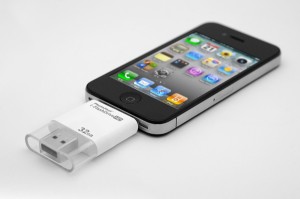 An even simpler flash drive for your Apple iPad/ iPod / iPhone.
Just a few days ago, you will remember I talked about the Hammacher Schlemmer USB flash drive. One of our readers (Jack from Flint) sent me email regarding a An even simpler flash drive they use on their iPad.
Specifically designed for the iPad, iPhone4 and iPod Touch, the PhotoFast i-FlashDrive is easy to use. Just plug in the iFlashDrive into your device, you will be prompted to install the app required to support the drive and presto your ready to use it. The drive will now appear on your iPad / iPod / iPhone on the listing for external storage devices. You will be able to select files to copy easily from the i-Flash drive (external storage) to your iPad/iPod/iPhone (local storage). One of the unique things about the i-Flash is that no network is required to use it. The only challenge you will have is deciding do you want to buy an 8, 16, 32 or 64 GB drive. Jack, thanks again for the email.
Product Specifications
Dimension 57.0 x 34.0 x 9.0 mm
Weight 17 +/- 1g
Compatibility iOS 5.1 / Windows XP / Windows 7 / OS X
Capacity 8GB / 16GB / 32GB / 64GB
System requirement Download free App from iTunes
Supports iPhone 5, iPad Mini/4 and other Lightning iDevices (Lightning adapter not included) as well as iPhone/iPad/iPod Touch 30-pin iDevices and USB devices
Playback Supports video streaming via Airplay
Free app Provides document viewer, file encryption, contacts backup-restore, voice recording, direct Dropbox link and more
References For more information …