When testing gizmos, I often consult my kids for feedback on some of the products. My son provided me with input when I was looking at the Seidio OBEX waterproof case and holder.
Seidio has a line of mobile cases for a variety of phones including the Apple iPhone 4 and 5 and the Samsung Galaxy S III. In addition to being impact proof, dust proof, environmental (cold, heat) protective, snow proof (great for us Canadians with our long cold winters) and water proof.
What my son loved the most about the case was the waterproof feature. Great to have while snorkeling or if you take your phone on the boat when going fishing (i.e. for all you fisherman who accidentally have had your phones drop into the water).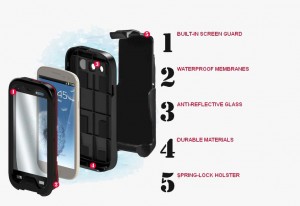 Product Specifications
Dimensions 3.16in x 5.93in x 0.72in
Weight: 2.80 ounces/ 79.38g
Protection:
Critical points of entry are blocked by a two-stage protection system
Case exceeds the IP68 rating, signifying that it is both dust-tight and protected against complete, continuous submersion
Exceeds the MIL-STD-810G test, which evaluates the case from 4 feet drops at multiple angles
Raised edges on the case and the 4H hardness rated screen protector create a barrier from external elementsReferences: Seidio's OBEX Case for the Samsung Galaxy