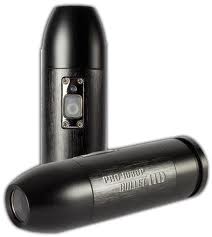 Just in time for spring, the BulletHD Platinum, called the world's smallest and lightest wearable HD helmet camera.
Weighing just 104g, this small dynamite of a gizmo is great for your physical activities such as running, biking or even swimming. Able to support 1080p resolution it is water, shock and vibration proof. It can withstand dust, dirt, mud, snow and works underwater. Easy to use, simply clip it on to your helmet, hat, or bike rail and when you are ready to record push the one button control for either video recording and image capture.
Proving that adage, good things come in extremely small packages.
Product Specifications
Built-in microphone
Product size: 104 x 32 x 32 mm
Weight: 104g
Operating System: Win ME, 2000, XP, Vista, 7; Mac OS X 10.6+
Resolution: FISHEYE view @1080p Mode, SUPER WIDE ANGLE view @720p Mode
Resolution Settings: 1080p: 1920x 1080 @ 30fps
Image Output: JPEG
Video format AVI
Storage: Supports MicroSD card (max 32GB).
Battery: Rechargeable Lithium battery (included)
Battery Life: 5 hours of continuous recording
Waterproof
References: For further information