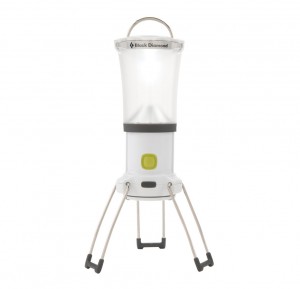 Gizmo geeks, we all know what season is around the corner. No I am not talking about summer but camping season. Unfortunately if you are like me, many of you still have equipment handed down to you from your parents and maybe some of it should be upgraded.
One of the devices I plan to replace is my old heavy lantern. Looking at the various options online, Black Diamond has come up with a very light (just 220g weight with the batteries) Apollo Lantern.
Although targeted somewhat to mountain climbers, this lantern is ideal for camping in your local park. Features include a dim adjusting switch and a double-hook loop and leg that allow you to hang it just about anywhere.
Product Specifications
LED Type : Double power (3-watt)
Batteries : 4 AA not included
Max Burn Time : 60 Hours
Colors: Dark Shadow & White
Lumens : 80 with a 20 meter diameter
Weight: 220 g, 7.8 oz (With Batteries)
Dual reflector system captures and maximizes light output
Power meter displays charge status or battery level for NRG Rechargeable Battery Kit (sold separately) or 4 AA alkaline
Unique dimming switch provides adjustable brightness
Distinctive fold-down legs increase lantern height to 24.1 centimeters (9.5 in), maximizing light dispersion
Collapsible, double-hook hang loop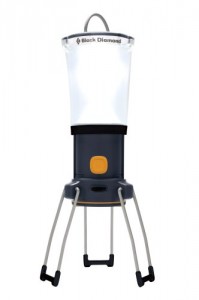 References: Black Diamond's Apollo Lantern on Amazon