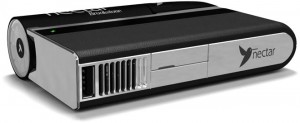 Looking for travel friendly power device that is approved for use on domestic and international flights?
After taking a five hour flight across the country, I ran into Mouli Ramani from Lilliputian Systems, Inc. He spent a few minutes talking to me about nectar™ the world's first portable power system. Nectar is revolutionary small device, very light in weight that provides you with a standard +5V output for your hand held mobile device. The wonderful thing about this product is once you plug in your device you have full power available (immediately).
Nectar™ is also approved for carry-on and use on board domestic and international flights under UN International Civil Aviation Organization (ICAO), International Air Transport Association (IATA) and U.S. Department of Transportation regulations.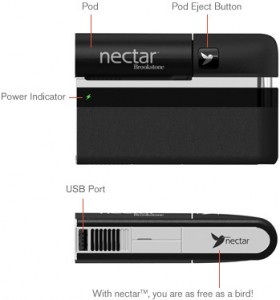 Product Specifications
USB 2.0 interface
55000 mW-hours of energy in a single power cartridge (up to 2+ weeks of power for a typical smartphone)
>2.5W peak power
55,000 mW-hours of energy in a single nectar™ pod (>10 recharges of a typical smart phone per nectar™ pod)
"Instant On" – nectar™ is always available and allows recharging to begin immediately
Hot-swappable nectar™ pods, providing essentially infinite run-time
nectar volume: ~150cc
nectar weight: ~200g
nectar pod volume: ~55cc
nectar pod weight: ~35g
References: Nectar Power