This furniture gizmo will help you transform your (lack of) exercise routine in your office.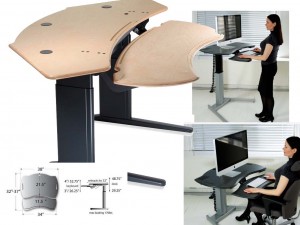 The work environment today is challenging. Having to sit behind a computer screen and desk for hours a day is not great for our health. Given the stress of having to meet deadlines, having a few minutes here and there to work out is quite difficult (if not an impossible thing) to do.
Biomorph has come up with a furniture solution that can help kick us in the right direction health wise. The adjustable computer motorized XO2 series of desks provides you with a health work out, by forcing you to stand while behind your computer screen. Don't be worried that you would not be able to make it through the 8 hours standing, because this furniture has a motor that adjusts the height of your desk, so that you can go from standing to sitting on your yoga ball (or perhaps your chair).
Product Specifications
Model: Biomorph Xo2 EL
Power 110v power
Keyboard surface Retracts 5″, and has intuitive 7″ adjustment range with optional tilt action
Load 170lb max
Surface colors Charcoal grey, Gunmetal Metallic, Frost White, Maple Plywood
References: Biomorph Furniture