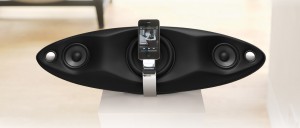 For many of us in North America the science fiction thriller movie "Oblivion" will open on Friday. Tom Cruise' stars as the principle character Jack Harper in a futuristic story about earth. Among the various cool technology travel gadgets Harper has a collapsible motorcycle that he carries on his Bubble Ship.
Bowers & Wilkins have created a futuristic speaker dock that may just be part of the acoustic system of Jack Harper's Bubble ship.
The Zeppelin Air is a high quality wireless streaming speaker dock. Although seamlessly integrated and interfaced with the Apple line of (iPad,iPod,iPhone, iTunes) products it has the capabilities to synch and stream music wirelessly from your Pc or Mac.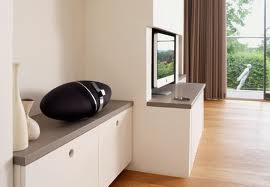 Product Specifications
Drive units 2x 25mm (1.0in) Nautilus™ tube aluminum tweeter
2x 75mm (3.0in) Midrange
1x 125mm (5.0in) Subwoofer
Frequency range -6dB at 36Hz and 42kHz
Inputs iPod® / iPhone® (30-pin connector)
Network (RJ45 Ethernet or Wi-Fi)
Auxiliary – analogue / optical digital (3.5mm mini jack)
Streaming, synchronization & firmware upgrades (USB 2.0)
Dimensions 173mm Height x 640mm Width X 208mm Depth
Weight 6.2kg (13.5lb)
References: Zeppelin Air Wireless AirPlay Speaker on Amazon