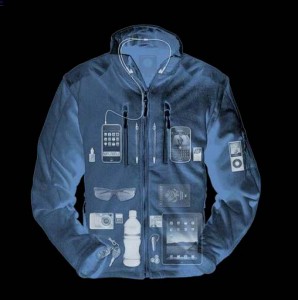 As we look into the gizmo landscape we see that technology is converging across various platforms (mobile phones, laptops, cameras, recording devices).
The designers at ScotteVest have created a gizmo fashion bonanza with their Technology Enabled Clothing or TEC that was designed for a super spy at a reasonable price. TEC clothing enables its owners to control their iPod®/iTouch®/iPhone® through the clear touch fabric of the interior pockets.
Although it looks like a normal jacket, it has 22 of the best hidden pockets you'll never really see!
Hard to believe but the jacket is iPad compatible
Product Specifications
Machine Washable Polyester Microfleece
Breathable mesh lining
Quick Draw pocket: clear touch material
Locking pocket : a one-way, locking zipper
Patented Personal Area Network (PAN) for headphone wire and power management
Transformer Sleeves:  Removable sleeves
Clear touch pockets for your phone
Can hold iPad® in PadPocket™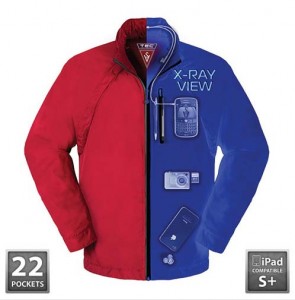 References: The ScotteVest High TEC Jacket