Brush Buddies, a California based provider of oral care products has come out with the ultimate in clean fun with their release of the Justin Bieber singing tooth brush. Launched in retail in August of 2011 now with different brush models, they play two of Justin's hit songs "Baby" & " U Smile" and "Somebody to Love" & "Love Me".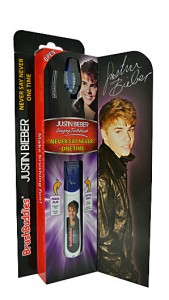 For those of you who are not Bieber fans, don't worry because Brush Buddies also has a line of One Direction, PSY and Lady Gaga singing tooth brushes.
Product Specifications
Soft Dupont TM bristles and an ergonomic design help clean plaque in hard to reach places.
Easily Replaceable Brush Head includes a tongue and cheek cleaner.
Soft rubber grip provides a firm hold and comfortable brushing experience.
2 buttons = 2 songs; one for brushing in the morning, one for night. Each song plays for the dentist-recommended two minutes.
Batteries are included and replaceable.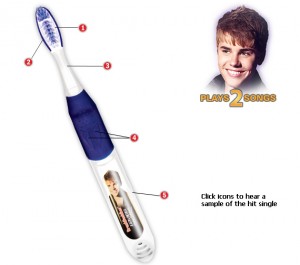 References: