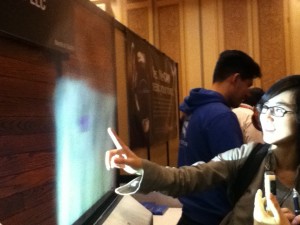 Gizmo readers we had the chance to see a demonstration of Displair's interactive air screen technology at the CES in January.
Displair is a radical breakthrough in image Display Technologies. It is an interactive user screen in which 2D or 3 D images are displayed on air infused with microscopic water particles.
In addition to the real estate that can be saved on the end user's desk images are physically touchable and penetrable. Similar to a touch screen, images are controllable. For example objects can be drawn or moved by simple hand gestures or movements.
When asked what range of applications could be implemented with the Displair, the representative indicated based on size that customers were using
Small Displair(20″)                        Interactive computing, gaming and teleconferencing,
Medium Displair(33″, 50″)           Interactive Education, business uses in addition to advertising and presentations on a small scale
Large Displair(100″, 142″)         A wonderful interface for for street advertising campaigns.
In addition to watching users in the booth be amazed with the display of basic information we were also mesmerized by users using the Displair for interactive gaming.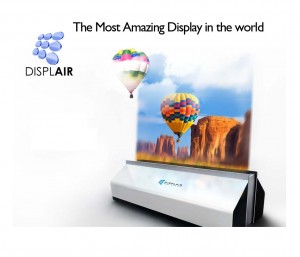 Product Specifications
Size: 60cm x 30cm x 15cm
Weight 12kg
Images are totally safe
References: The future is here now with Displair