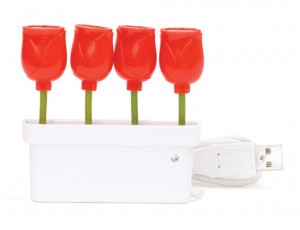 Gizmodians, nothing says I love you like flowers. Well Kikkerland Design has taken this simple concept into the twenty-first century with the USB Flower hub.
Not only do these flowers not have to be watered to survive (which is great for the green thumb challenged gardeners like myself) but they are a perfect accent for your workspace.
The only caveat is you may have to buy 3 hubs to get your dozen flowers.
Specifications
Weight: 3.2 ounces
Dimensions 3 x 3 x 0.75-inches
Ports 4 USB ports
USB version 2.0
Windows and Mac compatible
3M reflective material on 4 of 8 canopy panels.
Sterling Silver umbrella clasp.
References: Kikkerland US014 USB Flower Hub