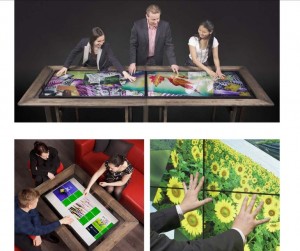 Having seen the movie Oblivion this last week I was impressed with some of the technology of Jack Harper in 2077. Andrea Riseborough's character Victoria was often seen in front of (or on top of) a really cool looking computer control display.
Good news gizmo readers is we don't have to wait another 64 years for the technology. The folks at the Finish company MultiTouch Ltd have developed the MultiTaction Cell 55″ Full HD LCD. The simple description of the product is that it is an Interactive Multi display interactive board, ideal for multi-touch walls and multi-touch tables of any size and form.
In addition to being ultra thin ( less than 20 cm deep) this multi-touch multi-user LCD tracks the user or users touch points.  Multi touch indicates it can track unlimited touch (finger/ hand) points on the screen with ultra-fast response time.
A great product with an extreme range of applications from scientific or engineering groups with collaborative white boarding and design to the other extreme of artistic or advertising projects.  Tue MultiTaction can be set up as a wall or as a table, inclinable to any position and has a  scratch-resistant front glass.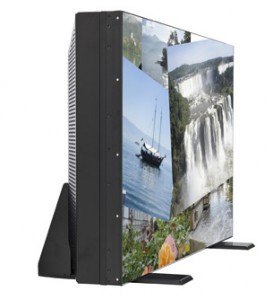 Technical Specifications:
Physical Dimensions                     1215 x 686 x 200 mm
Bezel width                                       1.9 mm (bottom and left side), 3.8 mm (top and right side)
Weight                                               40 kg (+5kg for two legs)
Color                                                  Black
Display Technology                         TFT LCD Ultra Thin Bezel
Display Size                                     55'' 16:9 Wide
Native Resolution                          Full HD 1920 x 1080
Display Colors                              16.7 million
Video Input                                     DVI-D
Control Input                                  Ethernet, USB B*
Power Supply                               100-240 VAC 50/60 Hz
Auxiliary input for keyboard,  mouse, and extra memory