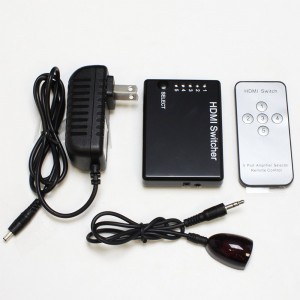 Gadget readers, when I go out, my wife is frustrated with the amount of remotes she has to turn on. One for the TV, one for the sound bar, another for the DVD and given that my TV has a limited amount of HDMI ports there is another remote to select the proper HDMI port from the HDMI switch. Going to a universal remote will only consolidate the confusion on what buttons to press on the remote.
Despite my documentation and home training there still seems to be some frustration on how to set things up.  Searching online I have found a wonderful solution. This 5 port HDMI Amplifier Switcher automatically detects what port to use when it has been turned on.  There is also a remote control shipped with the unit (for those of you who do not have the same challenges as me).
The Switch sends HD video (in multiple resolutions up to 1080p) and digital audio from any one of the several input sources to the output port.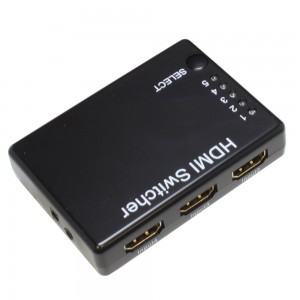 Product Specifications
Dimensions: 3.2 x 2.4 x 0.8 inches
Weight: 9 ounces
Ports Connects five HDMI inputs to a single HDTV.
Source device is automatically selected when it is turned on or plugged in
Supports HDMI 1.3b, HDCP 1.0 / 1.1. Supports resolution up to 1080p
References: 5 Port Smart HDMI Switch – Amazon