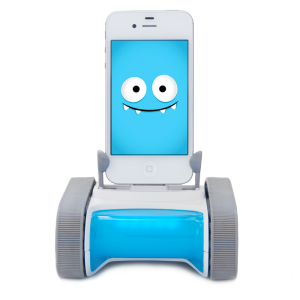 Gizmo users, to write a blog about a group of nerds that have created an intelligent robot may seem a little redundant. It is like me writing a blog to say Lebron James is really good at basketball.
However a team of nerds at Romotive have indeed created a cool robot toy called Romo,  designed to wander about your home or office.
This robot leverages the intelligence of your iOS smart phone device to do some really cool things such as telepresence. The Wi-Fi Drive will give the user a birds eye, I mean small robots-eye view of the world. Additionally behavior intelligence patterns can be modified based on learned outcomes to environmental triggers.
The nerds at Romottive have also uploaded an app for Romo  on the Apple App store that will learn new tricks with any update to the app.

Product Specifications
Colors:                                  Bright White and Brilliant Blue
Weight:                                  1.0 lbs un-boxed, 1.75 lbs boxed
Size:                                       5.6″ L x 4.5″ W x 3″ H
Telepresence:                      iPhone 4S ONLY
Compatibility / Control:       iPod Touch 4th Generation and up, iPhone 4, iPhone 4S, iPhone 5, or the iPad 2, New iPad, or iPad Mini
Power Recharges by plugging into a USB slot
References: Romo the smartphone robot