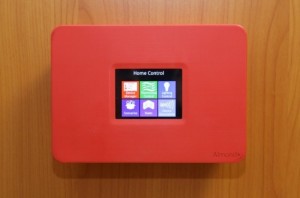 Gizmo readers, just as our children in our family grow and develop, we find that our technological family of gadgets grow and evolve.
Within the house, over the last few years we have seen an explosion of hyper connected devices. Whether it is for business (the computer, printer, Intelligent mobile phone) or for home (the IP connected toaster, fridge, home security system) or school or even for fun (online gaming) there is an increased dependence on your home network and its connectivity to the public internet.
The last few years my home network has gone from the traditional wireless router, to an  airport router to meet these increased demands. Of course, the network is never fast enough. Researching online I think I have come up with the perfect next generation home router that is cost effective.
The developers at Securifi, have come up with a Gigabit Ethernet router called Almond+. It is a router in which users can setup & maintain their router easily from its highly intuitive touch screen.  The router is also future proofed by supporting the WiFi 802.11ac protocol.  Don't worry as it is downward compatible 802.11a/b/g/n protocols.
Four times faster than your typical Wireless N Router it has enough power to cover a 5,000 square foot home. Fully secure as each Almond+ has a unique and random name (SSID) and password.
With Almond+'s smartphone app, you can
Set your home thermostat
Control the lights
Look at your home's security
All of this for only $99. However the bad news is the product is not released to the public quite yet. Securifi is not taking orders yet.  Stay tuned as they have very amount limited units available for pre-order (at a special price before its retail launch).

Product Specifications
Price: $99
Touchscreen controls
Ports 1+4 Gigabit Ethernet,1 USB 2.0
WiFi 802.11ac and downward compatible 802.11a/b/g/n
Colors: White, Blue, Green & Red
ZigBee and Z-Wave enabled
Control via 2.8" Touchscreen or Web Interface
References: Almond+ Gigabit Ethernet router