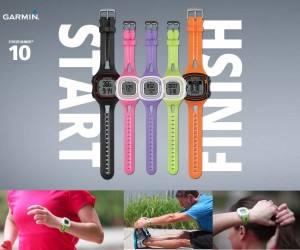 This weekend in addition to the normal grocery shopping I had the chance to do some gizmo shopping. I was looking for gadgets that would help me get into shape this spring as to shed some of those winter pounds.
On the top of my list was the Garmin Forerunner 10. It is a GPS watch for running that keeps track of distance, speed/pace and calories.
As with fitness coaches it has a variety of features that notes personal records and provides motivation along the way.  In addition to being GPS-enabled other features include Auto Pause®, Auto Lap® and water proof up to 50m which is fantastic for jogging in the rainy weather.  Light weight and available in a variety of colors it will make a great gift for mother's or father's day.
Product Specifications
Colors: Black/Red & Orange/Black,Pink/White, Green/White & Violet/White
Resolution: 55 x 32 pixels (WxH)
Touchscreen No
Battery Rechargeable lithium-ion
Battery Life 5 weeks in power save mode; 5 hours in training mode
Water Resistant up to 50m
Virtual Pacer™ (compares current running pace to target)
Personal Records
Garmin Connect™ compatible (online community)
References: Garmin Forerunner 10 on Amazon