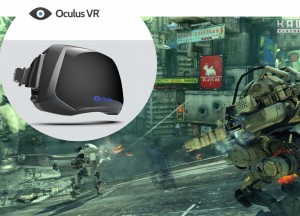 Gizmo users, I am looking forward to the upcoming NeuroGaming Expo 2013 held this year in San Francisco. One of the reasons is to see all the upcoming cool toys for gaming.
I am especially interested in listening to Palmer Luckey the founder and creator of the Oculus Rift. The Oculus Rift is a disruptive technology that takes interactive gaming to the next level. It is a virtual reality headset that enhances the immersive gaming experience.
Although the only "official" games currently working with the Oculus Rift are Team Fortress 2 and Hawken the hope is that developers will see the amazing capabilities of this headset and integrate the technology with next generation games.
Currently the company is only accepting pre-orders for developers. The ETA for pre-order shipments is June 2013.
Mark your calenders now, because the Oculus Rift will be a hot gift come Christmas 2013.
Product Specifications
Video input DVI
Min requirements HDMI or DVI video-out port. (VGA currently unsupported)
Resolution 720p
No support currently for Xbox 360, PS3, Wii, or next gen console
References: The Oculus Rift Headset