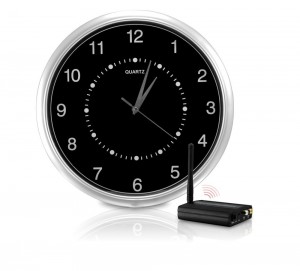 Gizmo readers as you are aware we encourage our readers to provide us with feedback not only on our blogs but on gadgets they use at home, in the office or when out playing.  Here is a great gadget recommended by one of our readers (thank you Jim from West Beach) for home or office security.
The Security Man ClockCam is a clock with a built in Wi-Fi Hidden Camera kit. The two channel receiver is set up to support 2 wireless cameras (900 Mhz). A great idea for not only when you are away from your home but also provides a piece of mind when you are there.
Jim indicated the Security Man ClockCam does not have a recording capability.  So if you are going to purchase it, you should have some other gadget in mind (i.e. DVR, VCR etc)  for recording and storage of your videos.
Product Specifications
Dimensions: 21 x 18 x 8.5 inches
Weight: 3 pounds
Color: Black
Hidden built-in wireless color camera
Video transmission goes up to 330ft clear line of sight or 100ft indoor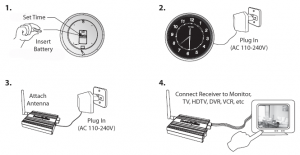 References: The Clock Camera with Wi-Fi