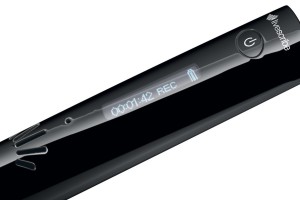 My nephew who is in university told me that a classmate of his was using a smart pen to talk notes.
Basically it is a pen that wirelessly sends your class notes or audio to your account on a cloud. After class the student can then synch the information with their computer or smart phone.
Thinking about the pen I came to realize that this is not only a wonderful tool for students but also can be a great tool at work. You can take notes at meetings or white board sessions and can collaborate the information through the shared notebook features.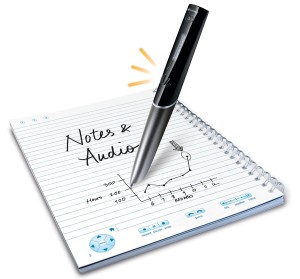 Product Specifications
Screen 96×18 OLED
Size Length 158 mm x Width 19.7 mm in.) at top
Weight: 36 grams
WiFi 802.11 b/g/n
Memory: 2GB, 4GB or 8GB
Replaceable Ink Tip
Built-in speaker
Standard 3.5mm Audio jack
USB computer port or USB power adapter for charging
Microphone: Holds approximately 200, 400, or 800 hours of recorded audio
References: Livescribe Wifi Smart Pen