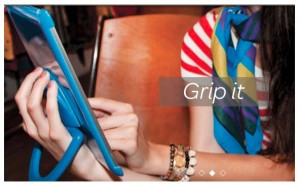 At the CES I was looking for New Gizmos that would appeal to my wife and mom. They have a different standard when evaluating products than I do. Although they appreciate benefits of technology, both of them would also require the gizmo to be esthetically pleasing.
Well I did happen to see this really cool and fashionable device that both my mom and wife would appreciate.
Created by Native Union, the Gripster is any ergonomically efficient fashionable tool that allows you to carry your iPad in a protective shell. It is a unique 3-in-1 iPad grip, stand and handle.
Ideal at home to position your iPad at any angle so you are able to type ergonomically.
The handle allows to carry and hold iPad securely
The rotating handle spins 360′ with 8 lockable positions allowing you to share information quickly
Efficiently designed for both home and office use.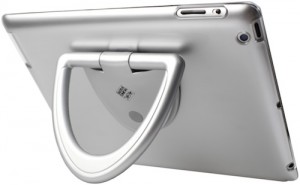 Product Specifications
Colors: Aquamarine, Bordeaux, Slate
Compatible with iPad 2, iPad 3rd Generation and iPad smart cover
Dimensions 258.8 mm (L) x 190.3 mm (W) x 26.3 mm (D)
References: The Gripster on LupRocks