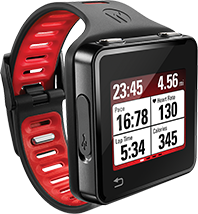 Whoever says you can't mix business and pleasure has never worn the MOTOACTV.
This latest in technological wonders is half fitness trainer and half MP3 player.
For the serious training side of you the MOTOACTV can monitor performance for over 40 other activities including running, cycling, golfing and for my sister soccer. Data such as time, calories burned, distance, steps, pace, step rate and heart rate can be stored on the MOTOACTV and online at on the Training Portal.
After working out, you can also leverage the MP3 functionality of the MOTOACTV. The device syncs your playlist with iTunes and Windows media player.
Product Specifications
Brand Motorola
Screen Size 1.6″
Battery Life 8 Hours
Memory 256MB of RAM and 8GB of NAND Flash
802.11B/G/N
Bluetooth 4.0
References: MOTOACTV smartwatch