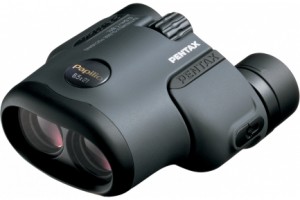 Gizmo readers, on the weekend I went to a outdoor store to check out the latest in gadgets. One thing that caught my eye was the Pentax Papilio. To say this is the latest in binoculars would be an understatement.
Made by the company that is known for digital cameras, the PENTAX Papilio are a sleek high tech 6.5X binoculars designed for viewing birds, insects or any other outdoor creepy crawlers. With the C.L.O.S.E. (Convergent Lens Optical System Engineering) technology it will allow you to focus down to 1.6 feet
A great gadget at a reasonable price.
Product Specifications
Specifications  6.5X
Body Color:       Black and dark gray
Dimensions:    114mm Height x 110mm Width X 55mm Thickness
Weight               290g
Objective Lens 21 mm Diameter
Specifications  6.5X
Focusing Range Approx 0.5m (1.6ft) to infinity
References: Pentax Papilio on Amazon