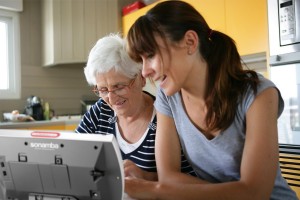 My mother is an advocate for seniors and has started to senior proof her home. Although both of my parents are independent it has gotten me to start thinking about how I will be able to ensure their safety and security later on in their life.
The Sonamba Technology is a well being monitor that monitors your loved one's motion/sound activity in the home and sends out periodic alerts through text messages to caregivers and family members cellphones. In addition you can use your mobile iPhone or computer to enter medication schedule into Sonamba. The device will will remind them at each dosage time.
A panic button on the unit and one that can be worn as a pendant or wristband, or optionally, attached to a wall
In addition to the security features the Sonamba also turns into a digital display (when not in use) and can be used to communicate via SMS which is a great feature for seniors who are not computer savvy.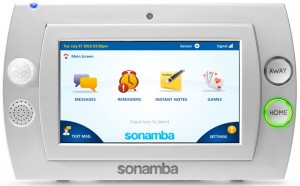 Product Specifications
Automated Medication Reminders
Panic button
Digital Photo Frame
Send / Receive Text Messages
Remote setup of Schedules, Photos
24/7/365 Monitored Personal Emergency Response Service:
References:  Sonamba Senior Well Being Technology on Amazon