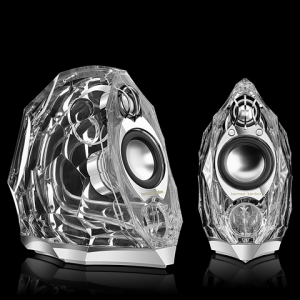 Having a discussion with a friend we put together a short list of what makes a successful gizmo. Nothing is more attractive than technology that is bleeding edge and has that sleek and sexy look.
Taking those two categories of look and functionality we can truly say that Harman Kardon has designed a very successful gizmo. The GLA-55 2.0-Powered Computer speaker system looks like it was a sculptural replications of aphrodite, or a vibrant extraction from a glass iceberg.
Having these two 56-watt-per-channel digital amplifiers on your desk would be a conversation piece for anyone who came into your office.
Outside the look the deep and riveting bass sound emitted from the speakers blows away the traditional computer speaker sound.
In addition to the sound and look, these speakers can connect easily to your desktop PC, laptop, tablet, iPhone, iPod or any device equipped with a 3.5 mm output. The controls on the speakers are self explanatory. The Volume is controlled through the plus and minus metal buttons on the left speaker.
Product Specifications
Power Consumption 60 Watts
Dimensions: 5.5 x 5.5 x 10.5 inches
Warranty: 1 Year Parts and Labor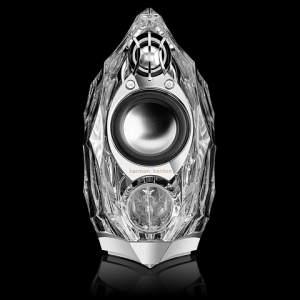 References: Harman Kardon GLA-55 2.0-Powered Loudspeaker System on Amazon