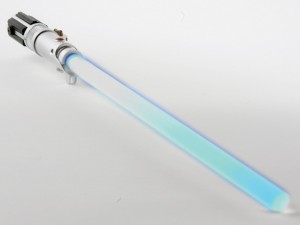 Gadget readers on this May the 4th day nothing says  Star Wars like a USB powered, light saber  lamp.
Simply plug and play by connecting it to your computer USB port. The adjustable illumination level allows you to determine the luminosity to be displayed at your desk.
Although the light saber is ready to take out any negative forces that may come into contact with your keyboard, unfortunately (take it from me) this device will not eliminate the dark forces of spammers that may hit your junk-mail folder.
Product Specifications:
Product Dimensions: 13.5 x 2 x 2 inches
Interfaces: USB Port
Adjustable illumination level
Lights up only when computer is on

Reference: Toys Star Wars USB Light saber Glow Lamp on Amazon