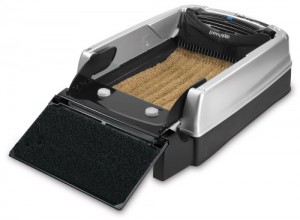 Gadget readers, many of you know based on previous blogs that I have a cat. Well being a good techno geek I went to the local pet store to purchase an automatic litter cleaner for my cat.
To me nothing would be cooler than having someone else clean the litter box. The LitterMaid Elite Mega Automatic Self-Cleaning Litter Box is a fantastic device.
Simply plug it in. Once the cat enters the litter box to do their thing, the automatic sensor kicks in. Ten minutes afterwards it rakes the litter box. The clump is then moved towards the waste receptacle and deposited.
However this gadget does not have a happy ending for our household. Cats are sensitive to any change and unfortunately having seen a device move in her box scared her away from the litter box.
So gadget readers beware.  Although this is a great product, you can never judge how an animal will react to technology.  Our feline preferred an old tech solution.
Product Specifications
Residential use for 2-3 cats
Dimensions: 28.2 x 8.7 x 20.2 inches
Weight 8 ounces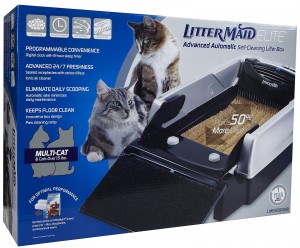 References: LitterMaid Automatic Self-Cleaning Litter Box on Amazon