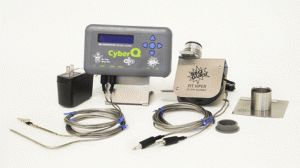 Gadgeteers, BBQ season is around the corner. The only thing that would top a great BBQ would be being able to control your BBQ on your smart phone.
Well we are glad to say that we have found your solution. CyberQ WI-Fi is a gadget that regulates the temperature of charcoal grills with incredible accuracy. Don't worry if you get called when your cooking your food because it has the the added ability to control your BBQ directly from any WI-Fi enabled device.
In addition to being able to remotely control the cooking temperature, the CyberQ offer email alert and audible food alarm sounds capabilities.
Product Specifications
Wireless
Temperature Control
Display in degrees F or C
Audible alarm sounds on food (meat) done
References: Cyber Q Wifi BBQ on Amazon