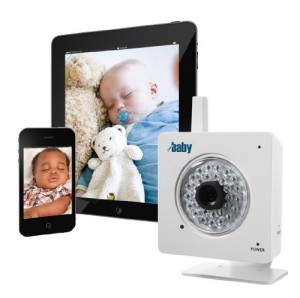 One of my relatives is expecting their first baby. Together with his wife they went to the Baby show to look at the latest in clothing, furniture and electronics for babies.
One of the devices they were looking for was a baby monitor. It is amazing to see how evolved baby monitoring electronics has progressed.
From WiFi Baby.net the latest is a baby monitor that is WiFi connected to your smart phone. While they are asleep, in addition to being able to monitor your child, you can receive audio and video alerts. Features such as Night vision, Picture in picture and pinch to zoom gives you the piece of mind that you will be able to see what is happening any time day or night.
The WiFi Baby monitor is functional with Android, iPhone and iPad apps.
Product Specifications
Dimensions: 9 x 3 x 6.8 inches
Weight: 1.8 pounds
Video, Audio, Alerts on iPhone, iPad, Android, Mac or PC
WiFi "N" – Up to 5x WiFi Range 2x speed
Night Vision
References: WiFi Baby 2.0 on Amazon