Gadget readers, next weekend here in North America is mother's day.
Nothing shows your appreciation for your mother (or wife) like an elegant gift that is technologically applicable.
Created by Swarovski, the Light Amethyst Crystalline USB pen is the description of beauty. Deceiving its first impressions in that one would not be able to believe that it was a USB storage device.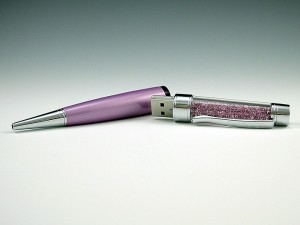 Product Specifications
Memory: 4GB
Crystals: 200 Swarovski crystals
Crystal: Light Amethyst
Refillable Ink
References: Swarovski Crystalline USB Pen on Amazon