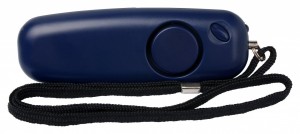 Well its hard to believe we are moving quickly through 2013 and almost half way there. The first sign of this was the emails about the CE Week Conference in New York in June.
Looking at the program according to the CE When it comes to consumer electronics purchases, women directly purchase almost half of all technology (49%) and influence a far higher percent in purchase decisions.
In recognition of this fact along with the upcoming mother's day in North America it is appropriate to talk about this gadget.
The Vigilant Personal Alarm is a inexpensive, small, light weight device that is ideal protection while jogging or commuting to and from work or even going out on a walk.
The emergency alarm is activated simply by pulling the pin from the device. This will result in up to 1 hour of continuous piercing alarm that will help to get the attention of anyone passing.
Product Specifications
Dimensions: 0.4 x 0.2 x 3 inches
Alarm Sound: 130dB Emergency/Panic Alarm
Batteries: AAA batteries (included)
Colours: Blue or Gray
References: Vigilant Personal Alarm on Amazon