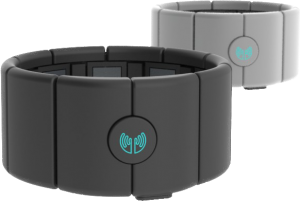 Gadget aficionados, I can truly say that the future is almost here. Thalmic Labs has introduced the next great thing in disruptive technology.
The MYO Gesture control is a one size fit all Bluetooth 4.0 Low Energy Armband  that communicates with devices that it is paired with through the electrical activity of your musicles.
Simple tasks from presenting from on your computer presentation to more complex tasks of  moving, starting, stopping and flying your Bluetooth helicopter are now as difficult as raising your arm up or down.  Control of devices are now literally at the snap of your fingers.

Mark my words when I say this will be a great gadget for dad or mom for use in their office or at home playing with the kids.
Product Specifications
Uses Bluetooth 4.0 Low Energy
Battery: On-board, rechargeable Lithium-Ion batteries
Computer OS: MacOS, Windows
Mobile OS: APIs available for IOS and Android
Status: Accepting pre-order.  Limited number available
Shipment: Next batch shipping early 2014
Cost:  $149
References:  Where you can place your order for the Thalmic MYO