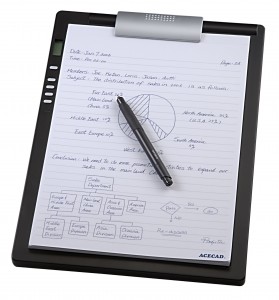 Some of the seniors would love to use technology such as a computer but are challenged with accessibility issues. For example something as foundational as typing can be a big hindrance to use technology.
My mother is one of these seniors and I am constantly looking for devices that can help address these challenges. Unfortunately one of her challenges is that she is on many committees but her typing skills are not at a level that she can type notes. She uses the proven method of hand writing notes (and then has to find one of her kids to ahem type them into an email).
SolidTek has created a solution to her and my problem. The DM-l2 DigiMemo is digital notepad that digitally captures what the end user writes or draws on a regular paper. You simply would plug the Notepad via the USB interface into your computer and upload your notes.
The only challenge I see is currently you have to use the DigiMemo Manager software to view, edit, and organize digital pages. However Solidtek is working on integrating a word doc on the software. However in terms of options until the word integration occurs you can copy or move your notes from DigiMemo into word or excel.
A great gizmo also for students or executives.
Product Specifications
Dimensions: 15.3 x 11.5 x 2.8 inches
Weight: 4 pounds
Battery Life:   Approximately 80 hours
Writing area 8.5 x 11 inches for full letter size
Included DigiMemo Manager software to view, edit, and organize digital pages
Can be saved as PDF, TIF, BMP, JPG, GIF or PNG format.
References: DigiMemo Digital Notepad