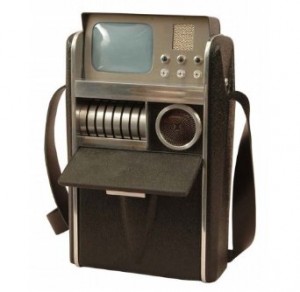 Gadgeteers, just in time for the movie Star Trek Into Darkness a Star Trek, Original Series Tricorder.
The detail is amazing on this must have gadget which will help you determine if your boss in the office is truly from this planet. Caution I wouldn't try this in the office because it may in fact lead to out of this world results. 🙂
A great gift for that special person in your life.
Product Specifications
Dimensions: 12 x 5 x 8 inches
Weight: 1.6 pounds
Working lights and sound effects
Includes removable scanner accessory
References: Star Trek: The Original Series Tricorder on Amazon