Called by Logitech as the ultimate in eye candy, the Zone T400 Mouse is truly a hybrid of art and science.
At first glance your eye is attracted by the nouveau artistic colors of Red Velvet, Midnight Berry, Wild Plum.  These concerns are quickly forgotten with the customizable controls and hybrid traditional-and-touch mouse for Windows 8.
If this wasn't enough a hyper extended battery life (up to 18 months WOW) and support for advanced wireless frequency (2.4 GHz) make this a definite accessory for your computer.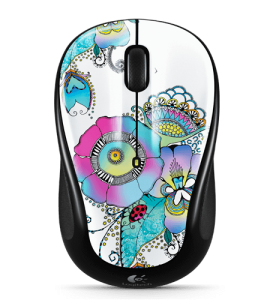 Product Specifications
Dimensions: 5.8 x 2.8 x 8.3 inches
Weight: 8.8 ounces
Batteries 2 AA batteries required. (included)
Extended battery life: up to 18 months of battery life
Advanced 2.4 GHz wireless
Customizable Controls
Colors: Red Velvet, Midnight Berry, Wild Plum
Fusion Party, Tweet Tweet, Into the Deep,Lady on Lily
References:
Logitech Zone Touch Mouse T400 on Amazon
Logitech site with information on the T400