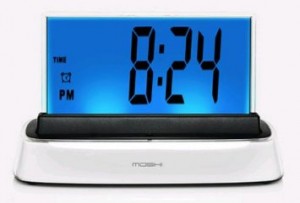 This blog was inspired by my mother who hates confusing gadgets that add frustration to her life. Here is a great clock that will simplify your life.
Moshi is a voice configurable alarm clock that allows you to set the clock time and alarm by voice.
Activate Moshi by saying "Hello Moshi", you will then be asked what you want to do by the response "Command Please"
You can control Moshi with simple voice activated commands such as "Time", "Alarm", "Time Set", "Set Alarm".  There are 12 commands in total.
A great product for seniors who do not need the confusion of programming their clock with those confusing buttons.
Product Specifications:
Dimensions: 7.5″ x 3.2″ x 4.5″
Weight 11.4 oz
Three alarm sounds
Three sleep sounds
Power: AC / DC
3 AAA batteries for backup (not included)
References: Moshi Voice Interactive Talking Alarm Clock