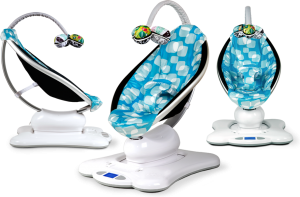 Created by our friends at 4moms, the mamaRoo is a Infant Seat that will keep your child occupied and safe.
The five different speeds allow you to speed up the seat for play and when junior is tired, you can put it on the lowest speed to rock them gently to sleep.  The mamaRoo reclines to an assort of positions to allow your baby to lie back and relax or sit up and play.
The seat comes with a selection of 5 different sounds to put your child to sleep and also is compatible with Ipod, Iphone.
The most important features of this device are the 5-Point Harness system to keep your child safe and the machine-washable removable fabric.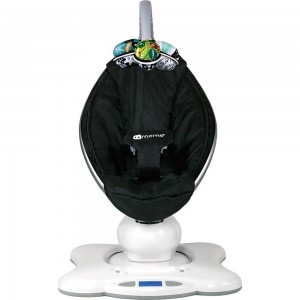 Product Specifications
Dimensions: 24 x 20 x 34 inches
Weight: 22 pounds
Maximum weight recommendation: 96 Pounds
Seat recline to any position along its axis
Selection of five built-in nature sounds
Interface for MP3 player
Power Source: Plug-In Electric Powered
Safety and Security Features: 5-Point Harness
Seat fabric zips in and machine-washable

References: mamaRoo by 4moms