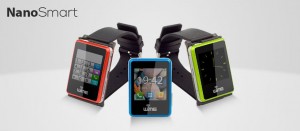 There has been talk about Apple coming out with a iWatch but the timing is still not certain.  We had a chance to see a fantastic new watch at this year's CES.
A Taiwanese company has come forward with its equivalent intelligent watch. The NanoSmart is a GSM phone on a watch. Built with an integrated Bluetooth dialer, Gmail notification, Google calendar and SMS integration this inexpensive watch will make you want to go out and purchase one now.
The NanoSmart watch works with any standard SIM card, without having to subscribe to a carriers contract.
In addition to the phone technology, the NanoSmart provides stereo MP3 sound with the embedded stereo music chip which allows users to enjoy high-quality sound.

Product Specifications
LCD Size 1.54 inch
Capacity (Memory) 256 Mb ROM+4 GB internal T-Flash card
Talking time Approx. 4 hours.
Standby time Approx. 120 hours
USB connection micro 5pin USB, USB 1.1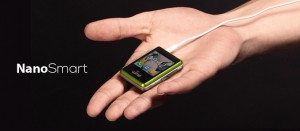 References: Wime NanoSmart Watch