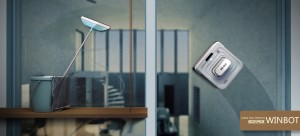 Gimzo readers One of the Wonderful (sarcasm alert) benefits of spring is spring cleaning. There is an old adage about people who live in glass houses. Unfortunately this saying has nothing to do with how to clean the windows of the glass house.
Branded by our friends at EcoVacs as the "worlds only window cleaning robot". WINBOT will clean your glass panes, no matter what thickness.  It can also clean glass doors, railings and shower stalls.
WINBOT is very simple to use. Just switch it on and place it on your window. The Robot's internal vacuum pump and seals generate enough suction to the window to support the unit and allow it to maneuver easily.
The Safety Pod will ensure the safety of WINBOT and any one underneath while it is cleaning.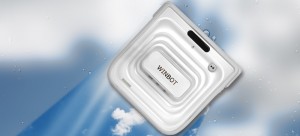 Product Specifications
Dimensions: 232mm x 225 mm x95 mm
Colors: pearl white (model W730) or yellow (model W710)
Battery: 11.1 V lithium rechargeable back-up battery
Charging Time: 2 hours
Remote control: YES
Cleanable glass thickness unlimited
References: WINBOT the window cleaning robot