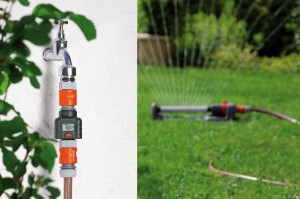 It is hard to fathom with this chilly spring we have been happening that summer is just around the corner.
Half way through last summer we had a watering conservation alert from our local city. This year in anticipation of another long hot summer I am purchasing a water monitor.
Created by Gardena the water Aqua Smart flow Meter keeps track of total water consumption daily and seasonally.
The easy to read LCD display also provides you with water usage and consumption per watering cycle. The only features missing from this device are a WiFi up-link for your stats and a remote on -off smart button. 🙂
Product Specifications
Dimensions: 6.2 x 10 x 5.5 inches
Batteries 1 CR2 batteries required. (included)
References: GARDENA 9188-U Water Smart Flow Meter on Amazon