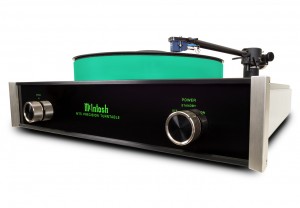 Here is a cool audio device we happened to walk by at the CES in Vegas. In fact it was not hard to notice it at the Venetian (with the loud music coming out of their display).
The McIntosh MT5 is a high performance precision turntable. Unlike turntables from the past, the MT5 is engineered for perfection.
Tracking force, anti-skate force, cartridge overhang and arm height are all preset. Built with noise suppression, resonance and coloration the MT5 makes sure that the only noise or you hear is that of the records spinning.
The only thing the M5 does not come with are your favorite vinyl records.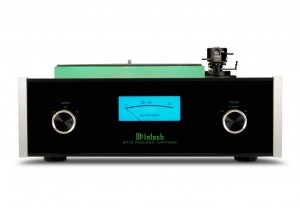 Product Specifications
Dimensions: 44.45cm x 17.8cm x 48.26cm (W x H x D)
Weight: 14.3 kg
Bearing: Magnetic Sapphire and Ceramic
Arm Tube: Dural – Aluminum
Playback Speeds: 33 1/3, 45 and 78 rpm
References: McIntosh MT5 precision turntable