Here is a simple gadget that we had a chance to try out at the Exposure Photo & Video Imaging Show 2013.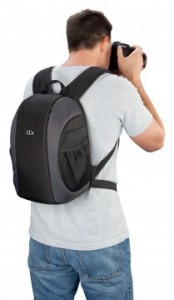 The Zuma 9 Secure Traveler is a theft proof backpack created by Tamrac. It is large enough to store your camera, iPad and your various camera accessories.
The backpack is secure, great for those European vacations (pay attention pickpockets). The only access to the inside is through the rear-opening door that, when worn, is up against your back, ensuring that your equipment is safe.
Tamrac was so confident that their product was secure that they had a challenge to see if you could get access to the backpack in 30 seconds or less, without alerting the person wearing the backpack. Needless to say, New Gizmo Blog got busted !!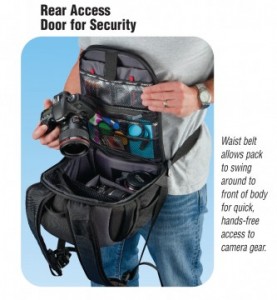 Product Specifications
Internal Top Dimensions 8½ W x 6 D x 6¼ H
Internal Bottom Dimensions 9½ W x 6¼ D x 6½ H
External Dimensions 9½ W x 7¼ D x 13¾ H
Weight 1 lb. 11 oz.
References: Zuma 9 Secure Traveler Photo/iPad Backpack