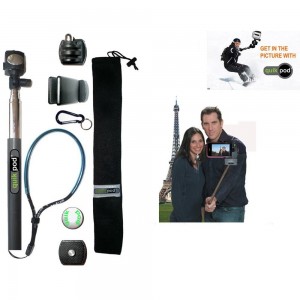 Have you ever wondered how some photographers get that hard to reach photo above the crowd?
What about when your on vacation (especially in a country where you don't speak the language) it can be difficult to ask someone to take a photo for you.
Well QuikPod has a solution for you. The Explorer II is a handheld monopod device that securely fastens your camera (and your ipod or smart phone) and enables you to take that perfect photo.
It is also (salt) water proof for underwater cameras and extends up to 39″ which will enable you to get that perfect picture.
Having seen it in action at the Photography show I was impressed enough to purchase it on the spot.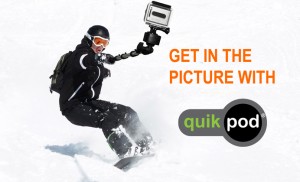 Product Specifications
Extends to 39 inches (99 cm)
Closes to 8.5 inches (22 cm)
Weight: 15.7 ounces
Load Capacity: 16 ounces
Includes GOPRO compatible adapter, 1/4″ x 20 quick release adapter, padded carry bag, waterproof wrist strap, hiking clip, camera tightening tool and mini-smartphone adapter.
References: QuikPod EXPLORER II